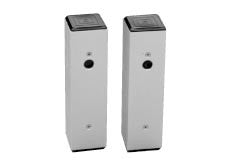 GD11S
$ 191.00
GD11S
Surface Mount Safety Beam
SURFACE MOUNT
WEATHERPROOF HOUSING
PULSED INFRARED BEAM RANGES UP TO 40 FT.
BUILT IN VARIABLE TIME DELAY (0.5 TO 15 SECONDS)
MEET COMPLIANCE WITH ANSI A156.10
The GD11S is a self-contained surface mount active infrared safety beam system for interior or exterior use on any automatic pedestrian door, industrial door or gate.
When the infrared beam is interrupted, the GD11S' relay output signals an industrial door or gate control to open, stop or reverse. On pedestrian swing doors, the GD11S is mounted on the guide rails. When the door is closing and the overhead safety sensor is locked out, interrupting the GD11S beam will bring this sensor protecting the swing side of the door back into the safety circuit thus inhibiting the door from reopening. This is now a requirement of ANSI A156.10 2005.
In the event of a power loss to the GD11S, the relay changes state (failsafe). The GD11S can be ordered with the GDB quick mounting brackets for easy installation on industrial doors and gates.