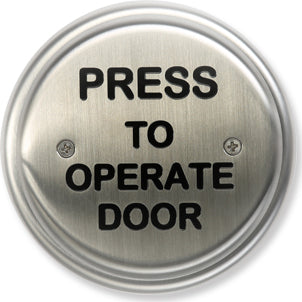 59R4-P
$ 83.00
4-1/2" Round stainless steel switch. Stainless Steel face plate with  press to operate door wording.
The 59R4-P Series switches combine architectural quality finishes with industrial grade components to provide attractive and reliable automatic door activation.
The 59R4-P Series features 4″ round face plates in stainless steel with an etched and paint filled legend. A 4 1/2″ diameter formed stainless steel back plate eliminates possible wall damage from standard use.
---
4″ round all active face plate
4 1/2″ diameter formed stainless steel back plate
Ul listed spdt switch, momentary contact
Attaches directly to single-gang electrical box or ms sedco surface mount box